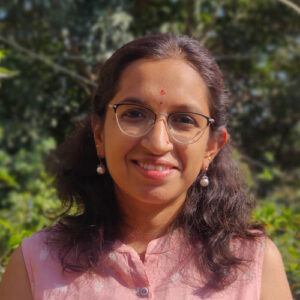 Kruthika BS is a biochemist and cancer biologist by training.
During her Bachelor's she specialized in Biotechnology, Genetics and Biochemistry from Sri Bhagawan Mahaveer Jain College, affiliated to Bangalore University. After her Master's degree in Biochemistry, she went to the Indian Institute of Science, Bangalore, to work as a Project assistant in Prof. Paturu Kondaiah's laboratory, Department of MRDG. She was trained in basic cancer biology and worked on breast cancer during this period. Having developed interest in cancer biology, Dr. Kruthika pursued her PhD degree at the National Institute of Mental Health and Neuroscience (NIMHANS), Bangalore, under the guidance of Dr. Vani Santosh in the Department of Neuropathology. Her doctoral research was on gene expression profiling in the peritumoural regions of Glioblastoma, a WHO grade IV brain tumour. Her doctoral thesis included clinical aspects like collection of tumour specimens from operating table, archiving the samples, immunohistochemistry of novel biomarkers and survival correlations of the results. Kruthika also has expertise in handling cancer cell lines and in vitro characterization of biomarkers using cancer related assays.
Post PhD, Kruthika worked at Prayoga Institute of Education research, gaining quality insights into Science Education Research. However, her interest towards scientific research and its applications that would benefit the society has brought her to Crisprbits.