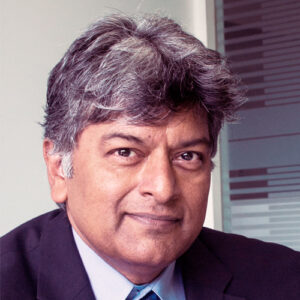 Vijay Chandru (PhD, Massachusetts Institute of Technology) is an academic and an entrepreneur.
He co-founded Strand Life Sciences in 2000 and served as its executive chairman till 2018. Strand was India's first example of academic entrepreneurship. Under his leadership, Strand developed from a company focused on data science to one offering solutions in precision medicine, a change that parallels the development of molecular biology over the two decades following the human genome project. Vijay is a member of the Lancet Citizens' Commission for Reimagining India's Health System. He was elected Honorary President (2009-2012) of the Association of Biotech Led Enterprises (ABLE), the apex trade body that represents the Indian biotech industry. Vijay serves as an advisor to the Karnataka State Council on Science & Technology and on the Atal Innovation Mission at the National Institution for Transforming India (NITI AAYOG) in New Delhi. A technology pioneer of the World Economic Forum since 2006, Vijay was recognized among the 50 pioneers of change by the India Today magazine in 2008. He is a fellow of the Indian Academy of Science and the Indian Academy of Engineering; an INAE Distinguished Technologist; and an adjunct professor in BioSystems Science and Engineering at the Indian Institute of Science.
Vijay trained in EE at BITS, Systems Engineering at UCLA and Operations Research at MIT. He served on the faculty of engineering at Purdue University and of computer science and automation at Indian Institute of Science. His early work on handheld computers with the Simputer Trust in the late 90's earned him India's Dewang Mehta award for innovation in information technology in 2001.